Dr. Phillips Dentistry
Dental Implants: the Gold Standard in Tooth Replacement!
Having missing teeth can affect your self-esteem and make it more difficult to chew and speak.
Missing teeth can also lead to additional health issues, such as loss of jawbone and even changes to your face's appearance.
Available as a long-term, natural-looking, comfortable and low maintenance solution to missing or badly diseased teeth, dental implants are the gold standard of modern dental care. They are designed to look, feel and function just like your natural teeth, blending in perfectly to create a natural-looking smile.
If you are considering replacing your missing teeth, dental implants may be the ideal solution for you.
Dental implants look and work like your natural teeth.
They include three pieces:
A titanium screw placed in the jawbone
A connector between the implant and crown
A crown, which is the visible part of the tooth
Dental implants are the most durable, stable, and comfortable prosthetic tooth replacement option available today. With proper care, dental implants can last a lifetime. This means your dental implants provide exceptional long-term value that will benefit you for the rest of your life.
We can work with you to determine if you are a candidate for implants to help you achieve a healthy, happy smile.
Dental implants have a success rate of up to
and can last a lifetime with proper care.

We Want Your Whole Family to Have a Healthy Smile!
Contact Us Today for Appointment
Getting Dental Implants
While your toothbrush and floss do a pretty good job of keeping your teeth clean, there are areas of your mouth that only a trained hygienist can reach. Regular exams help our patients maintain good oral health.

Consultation and Treatment Plan.
First, we gather your medical history, dental history, and take 3D X-rays and scans of your mouth to give us a clear picture of your oral health. We then explore treatment options to meet your health goals and budgetary needs.

Extraction. If the tooth is not already missing, we perform a tooth extraction. Depending on your case, we may place the implant at the same time, or you may need additional bone grafting before implant placement.

Bone Grafting. If your jawbone lacks the mass needed to accept an implant, we place a bone graft to strengthen the area. It may require several months of healing before we place the dental implant.

Dental Implant Surgery.
Your dentist at Dr. Phillips Dentistry then places a titanium screw, also known as the implant body, into your jawbone.

Osseointegration. We close the gum incision and leave the implant to heal for three months. During this period, the surrounding bone grows over the implant to fuse with it. This process creates a sturdy platform to support the prosthetic tooth.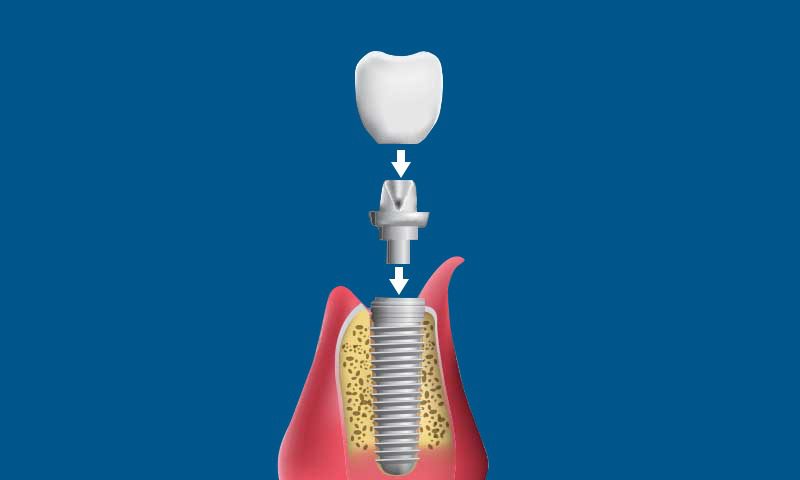 Final Restoration. Once the healing is complete, we place a connector (abutment) on the implant and place the final crown. The completed restoration looks and functions in the same way as your natural tooth.
What to Expect with a Dental Implant
Dental implants look and feel incredibly natural
so that you can smile with confidence. You may even forget your tooth is a replacement!

We Want Your Whole Family to Have a Healthy Smile!
Contact Us Today for Appointment
Flexible Payment Options For High-Quality Dental Care in Orlando
For your convenience, Dr. Phillips Dentistry accepts:
We do NOT accept HMO or Medicaid plans.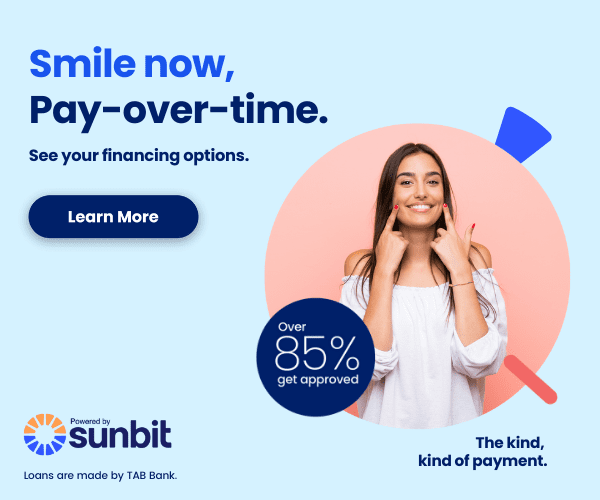 No Insurance? We Have You Covered.
See how simple and affordable better oral health can be!
Adult plans start as low as
Dr. Phillips Dentistry can meet a wide range of dental needs from family dentistry, cosmetic dentistry, implants, Invisalign®, orthodontic services, oral surgery, and endodontic services. Patient comfort and care are our top priority, and we go to great lengths to provide a pleasant environment for you.
We accept a wide range of PPO dental insurance plans, cash, check and all major credit cards. We also offer a low-cost in-house discount plan to save you money on your dental care!
Our office is located is located on Sand Lake Road in the Plaza Venezia shopping center, above the Corona Cigar Company.
Dr. Phillips Dentistry serves Dr. Phillips, Orlando, Bay Hill, Belle Isle, Windermere, Isleworth, Bay Lake, Golden Oak, Lake Buena Vista, Kissimmee, Hunters Creek, Metro West And More!
Dr. Phillips Dentistry
7800 W. Sand Lake Rd, Suite 220
Orlando, FL 32819
Same-Day Appointments
Have a dental concern or emergency? We'll be happy to see you the same day.
Se Habla Español
Hours of Operation
Monday: 8am–5pm
Tuesday: 8am–5pm
Wednesday: 8am–5pm
Thursday: 8am–5pm
Friday: Closed
Saturday: Closed
Sunday: Closed